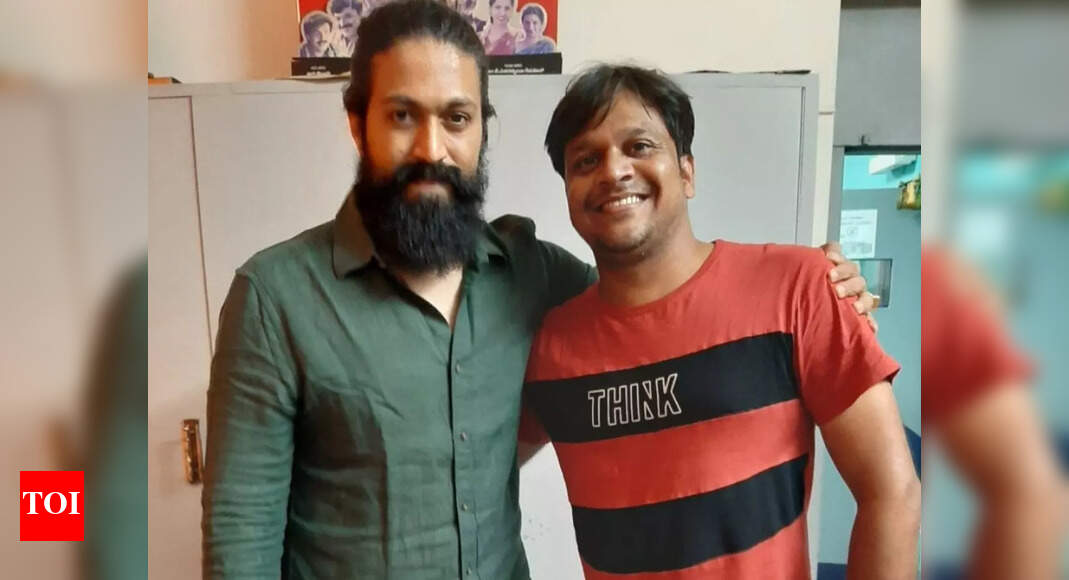 Yash's dialogues from
KGF: Chapter 2
have become a sensation on the internet and social media. Rocky Bhai (his character) saying, "Violence, Violence…" has gone viral and the voice behind
Yash
's many quirks in the Hindi version is voice over artist
Sachin Gole
. The senior dubbing artist has more than 17 years of experience and has dubbed for several South stars before. He speaks to ETimes and reveals everything that went into adapting the magic and wonder of KGF: Chapter 2's Kannada lingo into Hindi banter. Excerpts…
You've dubbed for Yash in the Hindi version of KGF: Chapter 2. How was your experience of working on this film and did you dub for Yash in KGF: Chapter 1, as well?


Yes, I have dubbed for both KGF Chapters 1 and 2. For KGF 1, Yash Sir himself selected me for the dubbing. Initially, he wanted the film to release in Kannada only, but considering the response of Baahubali from the Hindi language audience, it was decided that KGF will be dubbed in Hindi too. That was when the question of 'who will dub' for Yash's character came to the fore. They required a voice that wasn't too shrill or heavy and had the typical Mumbai accent. I had previously dubbed for Yash's few films. So, they looked upon the internet for those films and thankfully they liked my voice. They asked me to audition, I performed the way they wanted and voila… I was finalized.
How did you get involved in KGF: Chapter 2?


Well, KGF 1 was a blockbuster. I had dubbed for Chapter 1, so they decided to keep the casting as it is. It overthrew the risk factor in terms of dialogue delivery in Hindi. Since Chapter 1 was a hit, they did not want the graph to fall, hence they kept changes in the dubbing cast to minimal. Although, there were a few artists they had to replace, one of the artists Ravi Rajesh had passed away, so for his character's dubbing they had to make alterations along with a few other artists who couldn't join the casting due to other projects. I was given a more flexible schedule and told, "aapko jab time mile aap aake dub karna (You can dub as per your convenience)." It was certain that I had to do it and give it my best.
How much time do you require to dub an entire film?


Usually, when we go, we are given a time slot of four to five hours in which we try to cover up most, but KGF being a bigger project required more output and time. It took me a week to do it. There was no scope for any error, every word had to be perfect. So, we were very patient through the process, we did not rush it since it was the central character.

How many takes did the famous 'violence' dialogue need?


(Laughing)… It took fifteen to twenty takes.
Did Yash review all the Hindi dialogues and approve them?


Yes. Getting Yash sir and Prashanth Neel sir's approval was very important. So, Suri sir, who was a part of our production, would send the audio recordings to them, and Prashanth sir would make necessary corrections when and where required. They heard every second of it and would let us know which word and sound was to be emphasized more. Both Yash sir and Prashanth sir had an important part in the dubbing process.
Have you dubbed for other South actors as well? Are you just a dubbing artist or are you an actor, too?


I have had a chance to work with Dhanush sir. I've dubbed for him in quite a few films. Meri Takat Mera Faisla Part 2, Maari 1, Maari 2, Kori that was known as Rowdy Rathore Part 2 in Hindi cinemas, Chennai Central are a few projects where I dubbed for him. I have lent my voice to dubs for Sundeep Kishan and Dulquer Salmaan. I've also dubbed in a few old movies by Rajnikanth sir. And answering the second question, yes, I am an actor also.
Did your dubbing career receive a boost after the wave South cinema hit the rest of the country?


The concept of the dubbing industry was prevalent right through the 1990s. I joined the profession in 2005. Although the wave that you've mentioned began some ten years ago, according to me, it reached its peak with Baahubali in 2015. When that film was dubbed and released, the craze for dubbed films and dubbing exploded. People began to consume South cinema everywhere.
Did that have a positive influence on the income of the dubbing industry?


An artist with goodwill and experience can demand more money for their skill, although that can't be said for everyone within the profession. Beginners have to work for whatever remuneration is offered to them.
Have you been pursuing your career as an actor?

Yes, my primary goal is to act, but that alone cannot allow me to sustain my life in Mumbai. I need to be a dubbing artist.
The lockdown added to the demand of South films, so did it also create more employment for dubbing artists?


Yes, during lockdown we dubbed from our homes, we dubbed in studios as well.
Do you have an audio studio in your house? Was KGF: Chapter 2's dubbing done during the lockdown period?


I began working for KGF 2 after July 2020. And even though I didn't have a studio in my house, I used to stay over at my friend's studio sometimes where I could work. There was no way we could pause work.