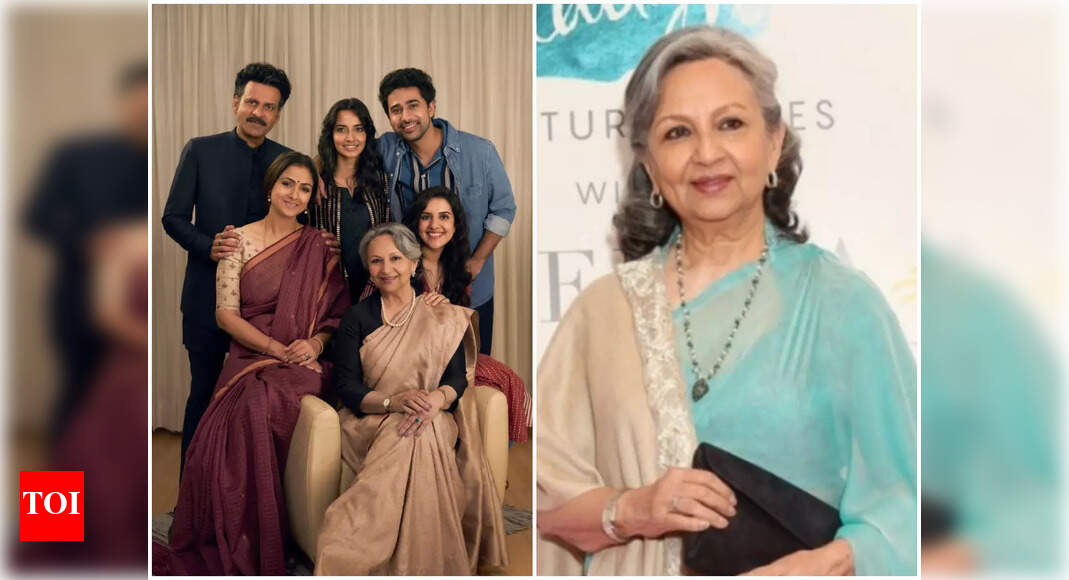 Sharmila Tagore is making a comeback after a hiatus of 11 years. She will be seen with Amol Palekar,
Manoj Bajpayee
, Suraj Sharma and Simran Bagga. The film is slated to release in August and will be a straight to OTT release. Speaking with
ETimes
, the veteran actress recalls her experience of being back on sets and feeling at home in front of the camera. Read on…
What can you tell us about your comeback film Gulmohar?
It's a family drama with mystery, like how everybody has a secret and at the same time, they are all close together. It's a kind of film that you can't really narrate. It is only when you see the film, you'll get the gist of it. I play the matriarch of the family. I have a son played by Manoj Bajpayee. He has two children and then there's my husband's brother played by Amol Palekar and his family. Everybody will identify with this film because every family, every extended family has these actions, reactions, and interactions. The music is very good. I enjoyed myself. It was a wonderful experience.

What was it about Gulmohar that compelled you to make a come back after 11 years?
Because it's a very interesting role, different from the usual. It's not just another grandmother character. I play myself; I play my age neither older nor younger. The script spoke to me, I looked forward to working with Manoj Bajpayee. I'm a big admirer of his.
You've been very particular about the kind of roles you've chosen.
Yes, and this will add to that, touchwood. The audience will be the judge of that of course. I haven't seen the film because it's not edited yet. And I didn't see the monitor because I didn't want to confuse myself. If the director said okay, it was okay. But while performing and while seeing other people perform around me, it seemed extremely real and realistic, not realistic in a boring way, but the emotions were very real. And every character looked very relatable. We were calling each other by the script names.
How did Manoj react when he learnt that you'd be playing his mother?
He was wonderful to work with, with his reactions. He internalizes his work. He's very prepared and always in character. So was everybody else on the Gulmohar set. Simran Bagga is a very accomplished actress; she's worked in the South. Adi plays my grandson. Suraj Sharma works in New York. They were always so appreciative and smiling. The team had wonderful energy.
The work environment on film sets has changed a lot of late. Was it easier then or now?
I was like a duck to the water. It was painless and it felt so good. Our film was shot in homes and it felt very real. It was not the studio atmosphere, where you just come and go. It was like we were living together, for one month. It didn't seem like I was entering an alien world, I felt the support and love.
Have you been flooded with offers after the news of Gulmohar broke out?
I'm not on Instagram, and I'm not so available like that. So, I said yes to Gulmohar and maybe I might do something again if everything works out. It was a very good experience working with the OTT platform, that much I will say. It was very organized and very systematic. I liked that.
Any chance of seeing Kareena Kapoor Khan and Sharmila Tagore's combination in upcoming projects?
You know the audience is very wild. They want to see a good film at the end of the day. If the collaboration happens organically then that's a good thing, but nobody can force these things. Kareena is working on a lovely film. I'm very happy about that because this is the first shoot happening after the lockdown and Saif has just finished another film. So, we are all a family of working actors, and we all enjoy our work. I did this and I enjoyed it. Now let's see how it'll be and we will take it from there.

How are you coping with the Delhi heat?
Yes, it's very hot here, summer hot. We are not going out, I'm not going out because of Covid, I just did this film and went back into my shell. I didn't even come to Mumbai.
How do you kill time when you're in your shell?
I do a lot of reading, watch films, and do interviews on Zoom. I go to Pataudi and spend time with my dogs every Sunday. I'm very busy that way. Let's see when this horrible situation [pandemic] will be behind us.