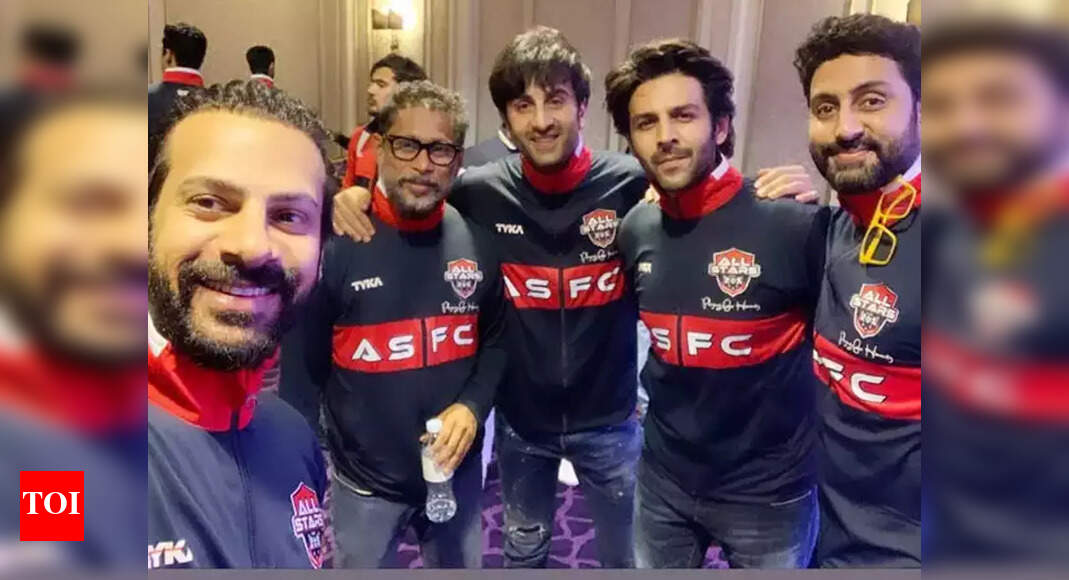 Ranbir Kapoor
and
Alia Bhatt
put their honeymoon plans on hold to go about wrapping up their film and other work commitments. One such work trip took Ranbir to Dubai to join his fellow Bollywood stars in the Celebrity Football Cup 2022 match with Emirates United.
Kapoor, who is the vice-captain of the celebrity football team, said that the team was one of the most important things he has been a part of. The actor told Bollywood Hungama, "We are really happy to be here. This also happens to be ASFC's 10th anniversary. This is probably the most, one of the most important thing that I have been a part of. The kind of friends I made, the kind of teammates, the brotherhood we have had."
The statement prompted team captain Abhishek Bachchan to tease him and remind the young hunk that he had tied the knot just last month. Abhishek quipped, "Which is so touching considering he just got married."
Ranbir couldn't help but laugh at Jr Bachchan's comment as he nodded and continued his statement.

Kartik Aaryan, who was also at the all-star match, allegedly had to be convinced to take a break from 'Bhool Bhulaiyaa 2' promotions to be a part of the team. Abhishek also revealed that even Ranbir was busy filming up until a few hours before he boarded his flight to Dubai.
While Kartik has been busy with film promotions, Ranbir has been on his toes shooting for 'Animal'. The actor is also expected to start promoting his ambitious film 'Brahmastra' which is slated for its release this September.