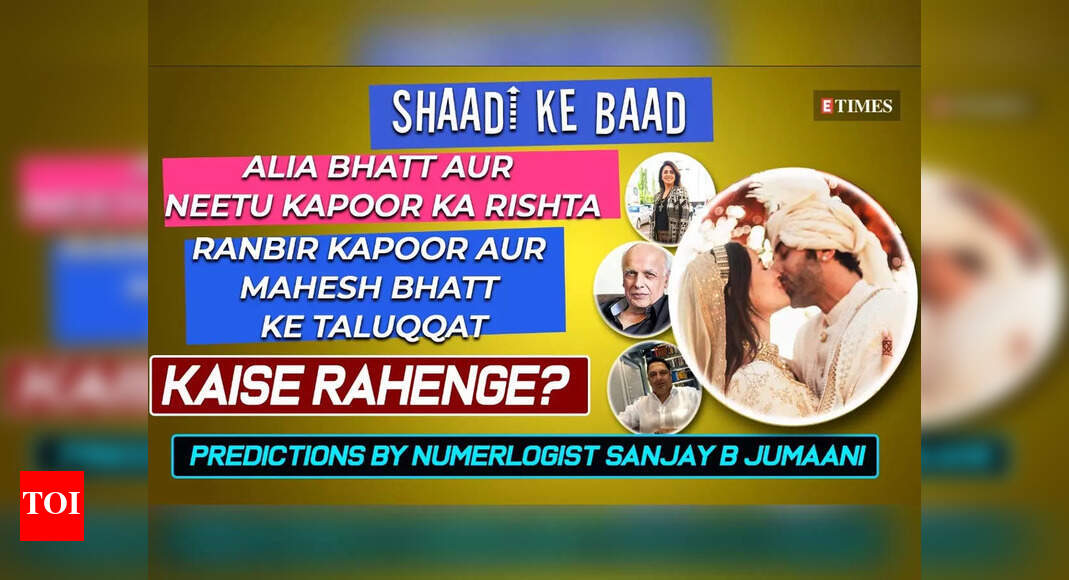 Shaadi ke baad, how will
Alia Bhatt
's equation with
Neetu Kapoor
be? And what about that of
Ranbir Kapoor
with
Mahesh Bhatt
? How many babies will Alia and Ranbir be blessed with? Find out from this interview of Bollywood's popular numerologist
Sanjay B Jumaani
's EXCLUSIVE INTERVIEW with
ETimes
.
Jumaani is frank and forthcoming and some of his answers will startle you. It's a much-talked about wedding and the time was right to sit down for a chat with him. Watch the video below:

Yes, we did ask how many babies will Alia and Ranbir have and when? We also asked if their respective numbers will affect the other's chart. And of course, their compatibility hereafter.
In an Instagram post, an elated Alia had posted soon after the wedding yesterday: "Today, surrounded by our family and friends, at home … in our favourite spot – the balcony we've spent the last 5 years of our relationship – we got married. With so much already behind us, we can't wait to build more memories together … memories that are full of love, laughter, comfortable silences, movie nights, silly fights, wine delights and Chinese bites. Thank you for all the love and light during this very momentous time in our lives. It has made this moment all the more special. Love, Ranbir and Alia."
So, yeah, what are you waiting for? Watch the predictions on the new Kapoor bahu and the daamad of the Bhatt clan in the video embedded above.