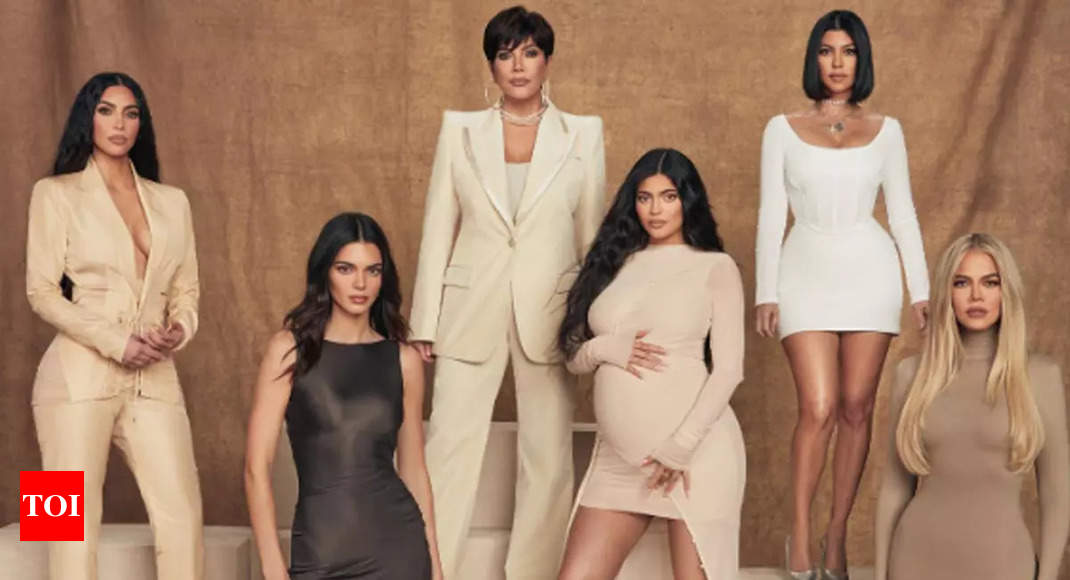 After wrapping up their hit series 'Keeping Up With
the Kardashians
', Kris, Kourtney, Kim, Khloé, Kendall and Kylie will once again, open their doors to the cameras and give fans an all-access pass into their lives with 'The Kardashians'. Showrunner Danielle King and executive producer Ben Winston sat down for a candid chat with ETimes and let us in on what fans can expect in the new show, taking viewers beyond the scandalous headlines and presenting a 'mature but still very fun' side of the six most powerful and successful women in America. Here's what they had to say…
Excerpts:
What have you deduced about the Kardashians after so many years and seasons of their reality show? What made you think there was more to explore here with 'The Kardashians' compared to what we have seen in 'Keeping up with the Kardashians'?

Danielle: The thing I'd like to stress on how the show is different, is that the cast is older, more grown-up and I think our storyline reflects that. We have a documentary feel to our show. Our cast looks straight into the camera and talks to the audience right in the middle of scenes, including them on the entire ride. The show is elevated in terms of looks and storytelling. I think it feels very mature, but it's still a very fun show. It has still got the spirit of 'Keeping Up With The Kardashians', that's the core that fans never want them to lose.
Ben: What interested us about it, is that they are the most fascinating family. From the documentary or film makers' perspective, they are the royal family of television. They are incredibly successful in both the businesses and the lives they lead. They are the 6 most powerful women you'll find in America and at the same time, they are brilliant on television because they are so honest, open and comfortable in front of the cameras. And finally, crazy things always seem to happen in their lives. There is never a dull moment with them. There's always something interesting to film and therefore we feel like we've got a great and fascinating show and an insight into one of the most famous families in the world.
What were Kim, Khloe and Kourtney's terms for signing on to this show?

Ben: They signed on before we did. They were approached by Disney and I think that they felt like there was still more of a story to tell. I think they probably missed 'Keeping Up' when it ended and they probably wanted to try something new. I think the Kardashians partnering with Disney is a new and exciting combination. With us, they just wanted us to make a beautiful and truthful show. They wanted us to elevate it in whatever way we could do. I think they have been very open with the cameras because they've spent 14 years in front of it so therefore, I don't think they had any terms and conditions, but rather just wanted partners to make a show befitting of who they are today.
This one gets so so personal because each one of them has been through so much over the past months, how would you describe the atmosphere on the set during the shoots?

Danielle: We had a lot of fun and everyone was so honest. My approach to directing cameras is to make sure that we are not intrusive. We try to be a fly on the wall. The family has been doing this for so long that they are used to the cameras, but we still try to stand back and give them room to express themselves. They are such an open family and there was a lot of vulnerability on set, but also a lot of fun.
Kourtney and Travis, Khloe and Tristen, Kim-Kanye and Kylie and Travis… every event in their life has created quite the buzz on social media. So would you say that the show picks off on the social media frenzy or is it the other way around?

Danielle: We certainly cover the headline stories on the show, but it is obviously from the casts' perspective. A lot of times what you read out in the headlines is someone's opinion or other people involved in the story, telling their story. On our show, we tell it from the Kardashian's perspective. It is their point of view behind all the headlines.
With cancel culture and Twitterati wielding more power than they did a decade ago, how tricky is it to make and present content?
Ben: I think it is difficult. I wouldn't want to be in the public eye because everything you do is scrutinised and sometimes criticised unfairly and judged. The thing with Twitter, Instagram and TikTok is that everyone has a voice, which in a way is wonderful and great, but in other ways, it means that a judgement can be passed on people which isn't always fair. What is wonderful about our show 'The Kardashians' is that it gives the family an outlet to show who they truly are, which is a wonderful, close-knit family who supports each other no matter what. When you see the show, you see them for who they really are rather than for who they are judged for being.
Kim and Kanye's divorce has opened up a big debate online, questions arise… will the narrative of the show be one-sided or will you balance it out?

Danielle: We see Kanye in our show, but obviously the interviews go to our cast and the show is told from our casts' point of view… from the family's point of view and that's what the show is.
Ben: They are very respectful at all times to everybody.
The Kardashians inspired the Featheringtons in 'Bridgerton', will you ever consider making a fiction format?

Ben: I didn't know they inspired Bridgerton. I think I'll have to watch Bridgerton now with a new eye on it. I think sometimes reality is more interesting than fiction, so, no. I don't think there needs to be 'The Kardashians' musical or 'The Kardashians' sitcom. I think this new show would be everything anyone would want from the family, so I am excited for everyone to see it.
Who is the most spontaneous and most unfiltered or the most fun to shoot with?

Danielle: That's like asking which one's my favourite kid! I love them all.
Ben: We're never going to pick one because we love them all. They've been so generous in allowing us to film their lives and we're so grateful for any time we have spent with them.
Watch the drama unfold in new episodes every week on Disney+Hotstar,